RosyQueen Hair Straightener & Curler Comb
$59.99
Regular price
$120.00
off
Description
This is the new generation hair straightener you have ever tried. With RosyQueen Hair Straightener Comb, you save more time to straighten your hair. Your hair will be transformed to straight when brushing. The Anti-Scald design allows you to reach more roots of your hair. Comparing the traditional straightening irons, RosyQueen Hair Straightener Comb provides you better results (shiny, healthy, silky hair) with more volume.
Product Features
5 temperature levels for different hair types(266°F-410°F)
30 seconds fast heat up
30 minutes auto-off
360°swivel power cord
International dual voltage 110-240V
Time Saver - Instant Heating
How much time do you have for hair? 20 min?
Our hair straightener comb can reach 350°F within 30s and ready in 60s, and straighten more hair at once with fewer comb passes thanks to the large triangle heating teeth, which has 24 gaps to take more hair and increases contacting area by 200% thus enhancing the effect of each pass.
All you need is a RosyQueen Hair Straightener Comb to help achieve the red-carpet-worthy look in 5 min!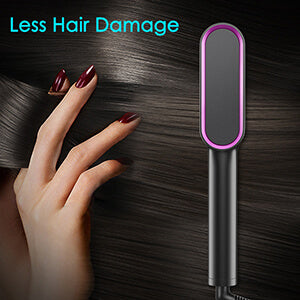 Damage-Free Styling
Our straightening comb can make hair a silky, shiny satin-like, reducing breakage and splitting by up to 50%. Restore your hair healthy, shiny and fine immediately.
Though hair straightening combs nowadays are much the same look, the same technology, the same results, and surprisingly every manufacturer seems OK with it, but not us.
We always strive on making quality hair straightener with a touch of modern taste as well as improving its functionality.
See, that's it.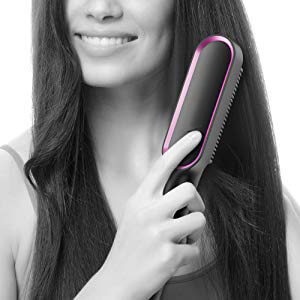 Silky Smooth & Overall Natural
Our hair straightener divides a large bunch of hair into 24 smaller strands and allows each strand to be fully caught between heat gaps, from roots to ends, making sure every hair is straightened to achieve an overall natural and silky look.
Turn on, wait for 60s, get the natural straight hair, walk out the door with confidence!
Say goodbye to hush and rush, get rid of frizz and split ends, and always emphasize the beauty of your hair!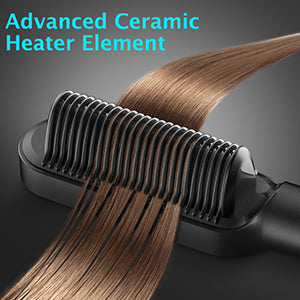 Uniform heating makes your hair more smooth & natural
Do you know the secret behind the smooth hair miracle? It was our most advanced heating components that ensure evenly distributed heat & damage-free styling, thus creating lush, shiny tresses.
Tips for you: Forcibly straightening your hair without detangling may cause hair to be pulled out. Please kindly detangle your hair with a regular comb first, as detangling makes straightening much easier & faster afterward and gives better result.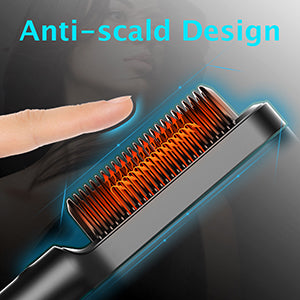 Anti - Scald Design & 5 Settings
Enjoy straightening anti from burning & shocking. The patented V-shape flame-retardant plastic frame will protect you from every angle.
We understand not all hair is the same. RosyQueen Hair Straightener Comb has 5 easily selectable heat settings. No matter what hair type you have, you can always find the right setting to tame it.
266°F - Soft & thin
302°F - Thin, fine / bleached
338°F - Dyed / dark colored
374°F - Normal / slightly curly
410°F - Thick, curly & wavy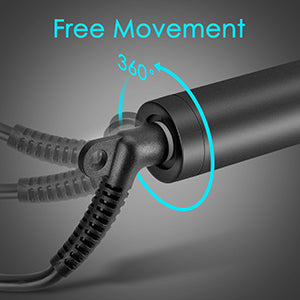 360° swivel cord
With 360° swivel cord, RosyQueen Hair Straightener Comb provides better access to the roots and flexibility at any angle, perfect for professional salon styling, travel & at home hair care.
Inspired by Bauhaus aesthetic, we made it modern and in style. When you look at yourself in the mirror, holding this sleek piece to straighten your hair, I bet you will feel satisfied. Now, just get this beautiful, unique and reliable masterpiece - RosyQueen Hair Straightener Comb!

Shipping
Please refer to your shipping confirmation email to track your order. If you have any questions, please contact our Customer Care team anytime!
Please allow 1 business day to process in addition to the shipping times listed below for your selected shipping method.
- To Contiguous United States                               
Expedited shipping: 5-7 business days (Please allow 1-2 business days for shipping delays)               
FREE for orders over $49.     
Express shipping: 3-5 business days
FREE for orders over $179.     
- To Canada
Expedited shipping: 8-10 business days
FREE for orders over $49.   
Express shipping: 4-6 business days
FREE for orders over $179.   
Learn more about  Shipping Info.
Return & Exchanges
1) Items can be returned or exchanged (excluding bags, beach blankets, towels, swimming rings, floaties, gift cards, items marked as flash sale, final sale & special sale) within 30 days of receiving your package.
2) If you need to initiate a return, please contact us via Live Chat. We're here to help you, 24/7!
Learn more about Our Return Policy.
RosyQueen Hair Straightener & Curler Comb
$59.99
Regular price
$120.00